SINGER Brid O'Riordan followed up on a well-received EP last August with a full album titled 'Scáthán Mo Shaoil'.
Brid's music was broadcast on RTE Radio 1, Lyric FM, BBC Radio Ulster, RnaG and several local and community radio stations and remained on RTE Radio 1's recommendation list for two weeks.
Four years of preparation with the help of producer Philip Begley and guitarist Derek O'Sullivan, the 12-track recording features much-loved songs performed beautifully by Brid with contributions from some of Ireland's most respected musicians.
'Bríd Óg Ní Mháille' features Paul Brady on guest vocals, Mick O'Brien adds his Uileann Pipes to 'Skibbereen' and Kevin Burke plays violin on 'Do You Love an Apple' and 'West Coast of Clare'.
With the singer's love for the southwest coast of Ireland, it's no surprise that the album was recently released at Greyhound Bar in Kilkee. The evening's accompaniment was provided by Derek O'Sullivan on guitar and James Hanley on keyboards for the performance.
What was a nice surprise to everyone who took part in the album was the appearance of Paul Brady who joined Brid on stage to sing 'Bríd Óg Ní Mháille'.
Guitarist Derek O'Sullivan reports that this was the culmination of a performance with many wonderful moments from the moving vocals on 'Skibbereen', supported by James at the piano to the lively choir of 'Ding Dong Dederó with the help of the Grattan Street Girls on voice.
Brid O'Riordan said: "I couldn't believe Paul got off at the launch and you could have knocked me over with a feather when he came to sing with me!"
The album is available for purchase at select retail outlets and online at www.bridoriordan.com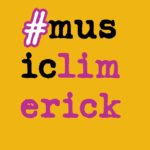 MusicLimerick – New Music Favorites is a Spotify playlist of some of the best music produced by Limerick artists over the past 12 months.
Follow the playlist HERE